4 Features of a Great Opt In Form
Your email list is the best way to stay in front of your audience and increase your sales. Having an opt-in form on your website is the best way to get your audience onto your list.
An opt-in form alone doesn't mean your site visitors will just sign up. There are a few things you need to do to increase your sign ups
So, how to do you make your form pop and entice your visitors to register?
I'm going to cover 4 points you should keep in mind when building your form.
Visibility
Ensure that your form is well placed and not hidden on your website. It should be easy to read and should complement your website. The most noticeable places for a form are at the top of the page, the sidebar or in the footer. If you place the form in the middle of the page, ensure that it doesn't fade into your design too much, but all doesn't garishly stand out either.
Engaging
The words you use in and around your form should be engaging. Connect with your site visitor and let them know how opting in will benefit them.

Simplicity
Keep it simple. The less info you try to obtain from someone signing up the more likely they are to register. You shouldn't need more than a name and email. Keep the form fields to a minimum.
Value
Offer something in return for signing up. It can be an informational PDF, an ebook or even just updates on your business. Use your email list to provide your subscribers first access at your new offerings. You can offer anything, but you need to give some reason for a person to sign up.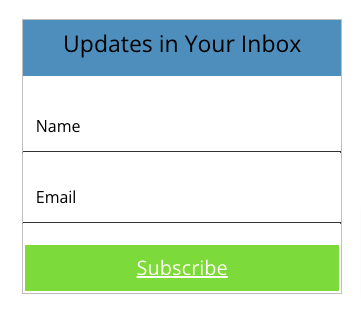 Following these tips will help you ensure you have an opt in form that doesn't cause your users to cringe. Your list size should increase which will increase your reach.